Soap Business 335
Shrink Wrapping Soap
Registration
Date
Details
Registration Options
Sunday
October 17, 2021
Attend in Person
2:30–4:00 pm (1½ hours)
Instructor: Kerri Mixon
Class fee: $22
Materials fee: $12
Credit Card,
PayPal,
or eCheck
Mail Registration Form
and Money Order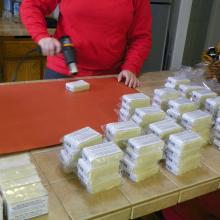 View the Description of Soap Business 335 Shrink Wrapping Soap.
Many different types of shrink wrap machines and shrink wrap films are discussed in class. If the exact Shrink Wrap Kit used in class is right for packaging your products, you may purchase the Shrink Wrap Kit used in class from our website. In Soap Business 335 class, we discuss many alternative shrink wrap systems.
Free Business Tips
View soapmaking classes, the schedule, or store hours.
Classes are held at a private home occupied by a pet cat. If you are allergic to cats, please contact info@soapmakingstudio.com prior to enrolling in a class.