Our Soapmaking Supply Store is Open and Classes are in Session!
Our physical store location is open and classes are in session. Check the Soapmaking Studio hours. View the schedule of classes.
Closed:

Tuesdays, Thursdays, holidays, and dates below.

Additional Closures:

Sunday, October 31, 2021—closed (Halloween)
Sunday, November 7, 2021—closed (Birthday)
---
Coronavirus Policies
We Care About Customers' and Students' Health
We care about the health and safety of our customers and students. An inherent risk of exposure to COVID-19 exists in any public place where people are present. COVID-19 is an extremely contagious disease that can lead to severe illness and death. According to the Centers for Disease Control and Prevention, older adults and people with severe underlying medical conditions are especially vulnerable. By attending a Soapmaking Studio class you voluntarily assume all risks related to exposure to COVID-19. Please familiarize yourself with our Temporary Modifications to Classes. Our store remains open and compliant with San Diego County Health Orders.
For fully vaccinated individuals, face masks are not mandatory. Unvaccinated individuals are required to wear face masks, according to the California Department of Public Health Guidance for Face Coverings.
Our store offers free pre-paid carry out service for those who wish to remain in their vehicles. Simply choose "store pickup" during online checkout or call during business hours to place and pay for your order. If you have any questions, please telephone the Soapmaking Studio: (619) 668-1435.
---
2 Classes in 1 Day: Hot Process Soapmaking & Shrink Wrapping!
October 17, 2021, at the Soapmaking Studio
Intermediate Hot Process Soapmaking
Make Hot Process Soap that's Ready to Sell Right Away!
Hot process soapmaking is the basis for many different types of soapmaking techniques. If you plan to make honey soap, sugar scrub soap, transparent soap, melt and pour soap base from scratch, or liquid soap, you will benefit from this hot processing class.
Spend the morning getting nice and soapy making hot process soap in Soapmaking 105 Intermediate Hot Process Soapmaking. Learn how to widen your product base by including hot process soap and learn the specific conditions under which hot process is the preferred method over cold process soapmaking. Attend in person or online. Register for Soapmaking 105.
Shrink Wrapping Soap
Professionally Shrink Wrap Products to Sell at Fall Craft Fairs!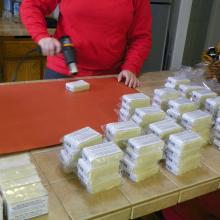 After the lunch break, learn to shrink wrap soap effectively and affordably in Soap Business 335 Shrink Wrapping Soap. There is a specific plastic film for cold process soap, a different film for melt and pour soap, and a different shrink film that is biodegradable. Different film formats are more cost effective than others. Come learn how to use all of them. Students should bring a minimum of 4 bars of soap, products, or items to shrink wrap in class. Attend in person. Register for Soap Business 335.
---
Bath Bomb Class
Sunday, October 24, 2021, at the Soapmaking Studio
Learn the Chemistry and Techniques to Make No Fail Bath Bombs without Oil!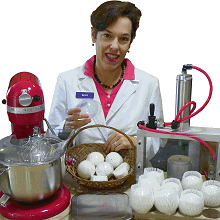 Learn how to create active treats for the tub. Students learn the secrets of making exceptional bath bombs, bath fizzy tablets, and bath salts. While most easy recipes include the simple process of creating bath fizzies using fats as a sealer to prevent reaction to air, this Bath Bomb Class includes the advanced techniques necessary to create bath fizzies without oils, so they won't leave a dangerously greasy bathtub the way oils do. In order to formulate and make no fail bath bombs, this new course includes an explanation of the chemistry of the fizzing reaction occurring between the starting reactants and the chemistry of the products yielded from the reaction and how they benefit bath water and skin. The class includes a brief exposé on clean water-soluble colorants versus water-dispersible colorants that may leave an undesirably gritty coating inside the bathtub. Also, learn to make greywater-safe bath bombs without oil or sodium-based salts, which can kill plants when introduced into greywater systems. Students take home bath treats made in class. Attend in person or online. Register for Bath Bomb Class.
---
Beginning Cold Process Soapmaking
Saturday, November 13, 2021, at the Soapmaking Studio
Learn How to Make Cold Process Soap with No Cure Time!
Soapmaking 101 is a beginning-level soapmaking class designed to teach students to make soap by hand at home. The main focus of this class is the "cold process" soapmaking method; although the class does briefly describe "melt & pour" soap crafting. After learning soapmaking safety, students learn to formulate soap recipes and calculate lye quantities without using a "lye calculator." The objective of Soapmaking 101 is to have students understand saponification values and be comfortable creating their own soap recipes at home. Students make cold process soap during the class session and take home a bar. Attend in person.
---
Soap Labeling and Marketing
Sunday, November 14, 2021, at the Soapmaking Studio
Avoid Problems and Fines by Complying with Soap Labeling Laws and Regulations!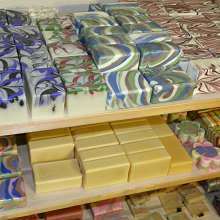 Learn the grizzly details of the new 2015 soap labeling laws and learn how to label your soaps to meet the labeling requirements of the five government agencies that regulate soap labels. Soap Business 330 is an intermediate business class that covers the federal and local regulations for labeling soap. Students learn to distinguish soap from cosmetics or drugs and the appropriate labeling laws for each type of product. The class lecture includes the 2018 updates to Proposition 65 and the resulting new soap labeling requirements. This class also presents several inexpensive and effective marketing tips to promote the sale of handmade soap. Students are encouraged to bring a sample soap label for discussion and critique during the class. Attend in person or online. Register for Soap Business 330.
---
Soapmakers' Luncheon
Sunday, April 10, 2022, at Marie Callender's Restaurant
Network with Southern California Soap and Cosmetic Crafters!
This luncheon is open to all soapmakers and makers of personal care products, whether professional or novice, whether cold/hot process method or "melt and pour." The Soapmakers' Luncheon is open to the public and attendance is free, just pay for anything you order from the menu. Our friendly soap meetup group is casual and provides a means of networking with local soapy artisans. Attend this creative handmade soaps and DIY bodycare meetup group luncheon at any level: Professional soapmaker, hobbyist soaper, or beginning crafter. The soap lunch venue is Marie Callender's restaurant on Alvarado Road in San Diego at 2:00 pm. Map & Directions. View the Soapmakers' Luncheon Agenda.
Marie Callender's Restaurant
6950 Alvarado Rd
San Diego, CA 92120
---
Soapmaking Classes
Soapmaking Classes are Fun, Understandable, and Affordable!
Learn how to make soap at the Soapmaking Studio in San Diego County, California!
Soapmaking 101 Beginning Cold Process Soapmaking has been a huge success and fills weeks in advance; the next class will be Saturday, November 13, 2021! The next Soapmaking 210 Advanced Cold/Hot Process Soapmaking will be Sunday, March 27, 2022. Soap Garden 224 Cultivating, Drying, and Adding Herbs to Soap and Soapmaking 220 Coloring and Scenting Soap are both available and open for registration. Our popular Soapmaking Supplies are now available for Standard Shipping or free Store Pickup.
Please check back because classes are added and website sections are updated on a regular basis. Email info@soapmakingstudio.com with any questions.
View soapmaking classes, the schedule, or store hours.
Classes are held at a private home occupied by a pet cat. If you are allergic to cats, please contact info@soapmakingstudio.com prior to enrolling in a class.