Serum Making Class
Facial Serums, Aloe Vera Gel, Hand Sanitizer, Gel Eye Shadow, Gel Eyeliner, and Mascara
Learn to make oil-free, concentrated facial serums containing vitamins and active ingredients. In Serum Making Class, learn about the different vitamins and active ingredients used to improve skin texture, minimize wrinkle lines, improve elasticity, treat acne, and even skin tone. Learn to use the Skin Deep database as a reference to determine the general safety of new ingredients. During the class, learn to make natural hand sanitizer gel and gel mascara with the same beneficial base ingredients. Students take home two facial serums, serum base, gel eyeshadow, and mascara made in class. Attend in person or online.
The August 22, 2021, Serum Making Classes will include making hand sanitizer for students to take home. Due to the current high demand for hand sanitizer, we will make natural hand sanitizer (from the hand sanitizer recipe in the workbook) for students to take home with them. Students who attend the class online will receive the handmade hand sanitizer in the mail.
Registration
Date
Details
Registration Options
Sunday
August 22, 2021
Attend Online
11:45 am–4:30 pm PDT (4¾ hours)
Instructor: Kerri Mixon
Class fee: $74
Materials fee: $30
Online fee: $25 or $38
Credit Card,
PayPal,
or eCheck
Attend in Person
Noon–4:30 pm (4½ hours)
Instructor: Kerri Mixon
Class fee: $74
Materials fee: $30
Credit Card,
PayPal,
or eCheck
Mail Registration Form
and Money Order
(Cosmetic Making Class)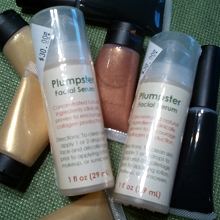 View soapmaking classes, the schedule, or store hours.
Classes are held at a private home occupied by a pet cat. If you are allergic to cats, please contact info@soapmakingstudio.com prior to enrolling in a class.