Learn how to make bath bombs, bath fizzies, and bath salts at the Soapmaking Studio in San Diego County, CA.
Bath Bomb Class
Bath Bombs, Bath Fizzies, and Bath Salts
Learn the Chemistry and Techniques to Make No Fail Bath Bombs without Oil!
Learn how to create active treats for the tub. Students learn the secrets of making exceptional bath bombs, bath fizzy tablets, and bath salts. While most easy recipes include the simple process of creating bath fizzies using fats as a sealer to prevent reaction to air, this Bath Bomb Class includes the advanced techniques necessary to create bath fizzies without oils, so they won't leave a dangerously greasy bathtub the way oils do. In order to formulate and make no fail bath bombs, this new course includes an explanation of the chemistry of the fizzing reaction occurring between the starting reactants and the chemistry of the products yielded from the reaction and how they benefit bath water and skin. The class includes a brief exposé on clean water-soluble colorants versus water-dispersible colorants that may leave an undesirably gritty coating inside the bathtub. Also, learn to make greywater-safe bath bombs without oil or sodium-based salts, which can kill plants when introduced into greywater systems. Students take home bath treats made in class. Attend in person or online.
Registration
Date
Details
Registration Options
Sunday
October 16, 2022
Attend Online
11:45 am–4:00 pm PDT (4¼ hours)
Instructor: Kerri Mixon
Class fee: $69
Materials fee: $24
Online fee: $25 or $38
Credit Card,
PayPal,
or eCheck
Attend in Person
Noon–4:00 pm (4 hours)
Instructor: Kerri Mixon
Class fee: $69
Materials fee: $24
Credit Card,
PayPal,
or eCheck
Mail Registration Form
and Money Order
(Cosmetic Making Class)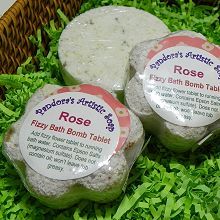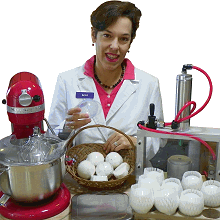 View soapmaking classes, the schedule, or store hours.
Classes are held at a private home occupied by a pet cat. If you are allergic to cats, please contact info@soapmakingstudio.com prior to enrolling in a class.