Welcome Soapmakers and Cosmetics Crafters!
The Soapmaking Studio homepage lists upcoming San Diego and southern California soapmaking events; for a complete list, view the schedule. Check the Soapmaking Studio hours.
Closed Tuesdays, Thursdays, and holidays (including closed Sunday, May 13, for Mother's Day).
---
Coloring and Scenting Soap
Sunday, April 22 at the Soapmaking Studio
Learn How to Distill Essential Oils at Home!
Come learn which colorants and scents are safe for use in soap and learn how to add them to cold process soap. An essential oil distilling unit will be running during the class so students can see how essential oils and hydrosols are distilled from plants. Learn how to calculate maximum allowable fragrance content and review FDA findings for soap and cosmetic colorants. This class also features a demonstration of a popular, advanced soap swirling technique. Attend in person or online. Register for Soapmaking 220.
---
Water Substitution in Soapmaking
Sunday, April 29 at the Soapmaking Studio
Springtime Edition with Frozen Berries and Goat Milk to Replace the Water in Soap Cupcakes!
In this special springtime version of Soapmaking 225, learn to make the wildly popular soap cupcakes! In the class, we will use frozen berries for the cake portion and goat milk for the frosted tops of the cupcakes. Students learn the tricks and special techniques to substituting the water portion of cold process soap with goat milk, heavy cream, yogurt, buttermilk, fresh juices, wine, spirits, and of course beer. During this Soapmaking 225 class, we will make two different batches of soap: Berry soap for the bottom cake portion and goat milk soap for the top frosting portion of the soap cupcakes. Attend in person or online.
---
Beginning Cold Process Soapmaking
Sunday, May 20 at the Soapmaking Studio
Learn How to Make Cold Process Soap with No Cure Time!
Soapmaking 101 is a beginning-level soapmaking class designed to teach students to make soap by hand at home. The main focus of this class is the "cold process" soapmaking method; although the class does briefly describe "melt & pour" soap crafting. After learning soapmaking safety, students learn to formulate soap recipes and calculate lye quantities without using a "lye calculator." The objective of Soapmaking 101 is to have students understand saponification values and be comfortable creating their own soap recipes at home. Students make cold process soap during the class session and take home a bar.
This class is also available online: Description of Online Soapmaking 101.
---
Cultivating, Drying, and Adding Herbs to Soap
May 27 at the Soapmaking Studio
Tips for Growing and Preparing Healthy, Abundant Herbs for Soap Ingredients!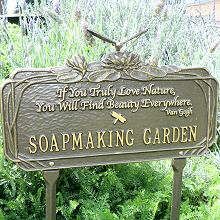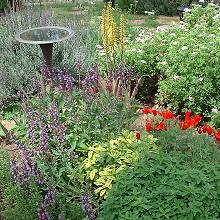 Soap Garden 224 covers how to select appropriate plants for your area, including growing in containers versus in the ground. Learn which plants do best in soap and how to prepare them. Learn which insects are beneficial to plants, which are pests, and how to deter pests organically by using pesticide made by hand from natural ingredients. This class includes a mini field trip through the Soapmaking Studio's aromatic plant garden. Students receive an assortment of cut herbs from the garden to be taken home to use for cooking and in soap. Register for Soap Garden 224.
---
Soap Makers' Luncheon
Sunday, October 14 at Marie Callender's Restaurant
Network with Southern California Soap and Cosmetic Crafters!
This luncheon is open to all soapmakers and makers of personal care products, whether professional or novice, whether cold/hot process method or "melt and pour." The Soap Makers' Luncheon is open to the public and attendance is free, just pay for anything you order from the menu. Our friendly soap meetup group is casual and provides a means of networking with local soapy artisans. Attend this creative handmade soaps and DIY bodycare meetup group luncheon at any level: Professional soapmaker, hobbyist soaper, or beginning crafter. The soap lunch venue is Marie Callender's restaurant on Alvarado Road in San Diego at 2:00 pm. Map & Directions. View the Soap Makers' Luncheon Agenda.
Marie Callender's Restaurant
6950 Alvarado Rd
San Diego, CA 92120
---
Soapmaking Classes
Soapmaking Classes are Fun, Understandable, and Affordable!
Learn how to make soap at the Soapmaking Studio in San Diego County, California!
Soapmaking 101 Beginning Cold Process Soapmaking has been a huge success and fills weeks in advance; the next class will be Sunday, May 20, 2018! The next Soapmaking 210 Advanced Cold/Hot Process Soapmaking will be Sunday, September 9, 2018. Soap Garden 224 Cultivating, Drying, and Adding Herbs to Soap and Soapmaking 220 Coloring and Scenting Soap are both available and open for registration. Our popular Soapmaking Supplies are now available for Standard Shipping or free Store Pickup.
Please check back because classes are added and website sections are updated on a regular basis. Email info@soapmakingstudio.com with any questions.
View soapmaking classes, the schedule, or store hours.
Classes are held at a private home occupied by a pet cat. If you are allergic to cats, please contact info@soapmakingstudio.com prior to enrolling in a class.