Welcome Soapmakers and Cosmetics Crafters!
The Soapmaking Studio homepage lists upcoming San Diego and southern California soapmaking events; for a complete list, view the schedule. Check the Soapmaking Studio hours.

---
2 Classes - Start a Soap Business and Legal Soap Labeling Requirements
June 26 at the Soapmaking Studio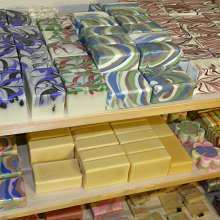 Forming a Legal Business Entity to Sell Soap
Two classes in one day! In the morning, come learn the proper steps to starting your own business in Soap Business 320, Forming a Legal Business Entity to Sell Soap. The morning business class focuses on the necessary licenses and permits, as well as product liability insurance available to soapmakers. It also covers how to choose an effective business name and how a company's name directly effects search engine rankings. Register for Soap Business 320 class.
Soap Labeling and Marketing
After the lunch break, learn the grizzly details of the new 2015 soap labeling laws and learn how to label your soaps to meet the labeling requirements of the five government agencies that regulate soap labels. Soap Business 330 is an intermediate business class that covers the federal and local regulations for labeling soap. Students learn to distinguish soap from cosmetics or drugs and their appropriate labeling laws. This class also presents several inexpensive and effective marketing tips to promote the sale of handmade soap. Students are encouraged to bring a sample soap label for discussion and critique during the class.
---
Beginning Cold Process Soapmaking
July 10 at the Soapmaking Studio
Soapmaking 101 is a beginning-level soapmaking class designed to teach students to make soap by hand at home. The main focus of this class is the "cold process" soapmaking method; although the class does briefly describe "melt & pour" soap crafting. After learning soapmaking safety, students learn to formulate soap recipes and calculate lye quantities without using a "lye calculator." The objective of Soapmaking 101 is to have students understand saponification values and be comfortable creating their own soap recipes at home. Students make cold process soap during the class session and take home a bar.
This class is also available online: Description of Online Soapmaking 101.
---
Intermediate Hot Process Soapmaking
July 17 at the Soapmaking Studio
Get nice and soapy making hot process "Peppermint Pedicure Soap" in Soapmaking 105 Intermediate Hot Process Soapmaking. Learn how to widen your product base by including hot process soap and learn the specific conditions under which hot process is the preferred method over cold process soapmaking.
---
Intermediate Liquid Soapmaking
July 21 at the Soapmaking Studio
Soapmaking 215 is designed to teach students to safely make liquid soap at home. This class covers the various difficulties faced by home soapmakers who strive to make a truly clear liquid soap. Specific class topics include safety, formulating soap recipes with potassium hydroxide, and the different choices of soapmaking oils, fragrance materials, and colorants. Each student receives a 2-ounce bottle of handmade liquid soap. Register for Soapmaking 215.
---
Bath Bomb Class
July 31 at the Soapmaking Studio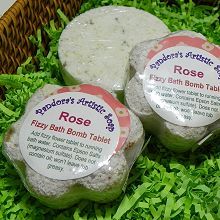 Learn how to create active treats for the tub. Students learn the secrets of making exceptional bath bombs, bath fizzy tablets, and bath salts. While most easy recipes include the simple process of creating bath fizzies using saturated fats as a sealer to prevent reaction to air, this Bath Bomb Class includes the advanced technique necessary to create bath fizzies without oils, so they won't leave a dangerously greasy bathtub the way oils do. The class also includes an exposť on clean water-soluble colorants versus water-dispersible colorants that may leave a gritty coating inside the bathtub. Students take home bath treats made in class. Register for Bath Bomb Class.
---
Heart ♥ Attack Weekend
August 12 - 14 at the Soapmaking Studio
One spectacular weekend crammed so full of soapmaking classes and business classes, it may give you a heart attack! Friday: ♥ Soapmaking 101 (Beginning Cold Process Soapmaking). Saturday: ♥ Soap Business 320 (Forming a Legal Business Entity to Sell Soap) and ♥ Soapmaking 220 (Coloring and Scenting Soap). Sunday: ♥ Soapmaking 210 (Advanced Cold/Hot Process Soapmaking) and ♥ Soapmaking 225 (Water Substitution in Soapmaking). View the schedule for more details. To better plan your trip to the Soapmaking Studio, refer to the location page for hotels and weather.
---
Soapmaking Classes
Soapmaking Classes are Fun, Understandable, and Affordable!
Learn how to make soap at the Soapmaking Studio in San Diego County, California!
Soapmaking 101 Beginning Cold Process Soapmaking has been a huge success and fills weeks in advance; the next class will be Sunday, July 10! The next Soapmaking 210 Advanced Cold/Hot Process Soapmaking will be in August 2016. Soap Garden 224 Cultivating, Drying, and Adding Herbs to Soap and Soapmaking 220 Coloring and Scenting Soap are both available and open for registration. Our popular Soapmaking Supplies are now available for shipping.
Please check back because classes are added and website sections are updated on a regular basis. Email info@soapmakingstudio.com with any questions.
View soapmaking classes, the schedule, or store hours.
Classes are held at a private home occupied by a pet cat. If you are allergic to cats, please contact info@soapmakingstudio.com prior to enrolling in a class.