Soap and Cosmetics Making Classes!
The Soapmaking Studio homepage lists upcoming San Diego and southern California soapmaking events; for a complete list, view the schedule. Check the Soapmaking Studio hours.
Closed Tuesdays, Thursdays, and holidays.
Additional Closures:

Monday, February 17, 2020 (Presidents' Day)
---
Web Design and Internet Commerce
Sunday, January 26 at the Soapmaking Studio
Sell Soap and Cosmetics on the Internet and Improve Search Engine Rankings to Increase Sales!
For an inspiring Sunday afternoon: Soap Business 350 is designed for both students who currently have confusing or low-performing websites and for students who do not have websites. In this understandable and thorough class, learn about domain names and hosting packages. Also, learn to create your own website for free, optimize keywords, rank high on search engines, and verify your site code is valid. Finally, setup PayPal payment buttons and start selling on the Internet. Minimize your expenses and maximize profit in Soap Business 350. Attend in person.
---
Bath Bomb Class
Sunday, February 2 at the Soapmaking Studio
Learn the Chemistry and Techniques to Make Better Bath Bombs without Oil!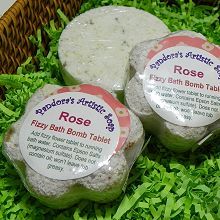 Learn how to create active treats for the tub. Students learn the secrets of making exceptional bath bombs, bath fizzy tablets, and bath salts. While most easy recipes include the simple process of creating bath fizzies using saturated fats as a sealer to prevent reaction to air, this Bath Bomb Class includes the advanced technique necessary to create bath fizzies without oils, so they won't leave a dangerously greasy bathtub the way oils do. The class also includes an exposé on clean water-soluble colorants versus water-dispersible colorants that may leave a gritty coating inside the bathtub. Also, learn to make greywater-safe bath bombs without oil or sodium-based salts, which can kill plants when introduced into greywater systems. Students take home bath treats made in class. Attend in person or online. Register for Bath Bomb Class.
---
Lotion Making Science
Sunday, February 9 at the Soapmaking Studio
Understand How to Make Perfect Lotions, Creams, and Other Emulsions!
In this beginning-through-advanced Lotion Making Science class, take a scientific, hands-on approach to learning different methods and techniques for making lotion. Students learn to make small, test batches of lotion and how to increase the recipe to make larger batches. Gain confidence by learning how a batch of lotion that has separated or gone wrong can always be salvaged. Understand the importance of emulsifiers and emulsification systems: what they are and how they work. Perform scientific test experiments to prove whether or not common lotion ingredients (such as lecithin, polysorbate, and stearic acid) act as emulsifiers. In this Lotion Making Science class, students compare four (4) different emulsifiers in performance challenges to determine which emulsifiers cause soaping (white streaks during application), which emulsifiers are better for the face (non-comedogenic), which emulsifiers are water miscible (and better for use in hair conditioner), and which emulsifiers are considered natural ingredients (and widely accepted by modern consumers). This class also briefly covers labeling requirements, preservatives, and professional lab testing. Students make lotion in class and receive four (4) different lotions to take home. Attend in person or online. Register for Lotion Making Science class.
---
Beginning Cold Process Soapmaking
Sunday, February 16 at the Soapmaking Studio
Learn How to Make Cold Process Soap with No Cure Time!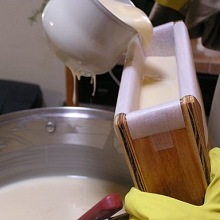 Soapmaking 101 is a beginning-level soapmaking class designed to teach students to make soap by hand at home. The main focus of this class is the "cold process" soapmaking method; although the class does briefly describe "melt & pour" soap crafting. After learning soapmaking safety, students learn to formulate soap recipes and calculate lye quantities without using a "lye calculator." The objective of Soapmaking 101 is to have students understand saponification values and be comfortable creating their own soap recipes at home. Students make cold process soap during the class session and take home a bar.
This class is also available online: Description of Online Soapmaking 101.
---
3 Classes in 1 Weekend—Start with Labeling Laws on Saturday!
Saturday, February 22 at the Soapmaking Studio
Soap Labeling and Marketing
Design Soap Labels to be Beautiful, Trendy, Memorable, and Legal!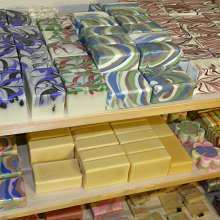 The first of 3 classes for the weekend! Saturday morning, learn the grizzly details of the new 2015 soap labeling laws and learn how to label your soaps to meet the labeling requirements of the six government agencies that regulate soap labels. Soap Business 330 is an intermediate business class that covers the federal and local regulations for labeling soap. Students learn to distinguish soap from cosmetics or drugs and their appropriate labeling laws. The class lecture includes the 2018 updates to Proposition 65 and the resulting new soap labeling requirements. This class also presents several inexpensive and effective marketing tips to promote the sale of handmade soap. Students are encouraged to bring a sample soap label for discussion and critique during the class. Attend in person or online. Register for Soap Business 330.
---
2 Classes in 1 Day—Hot Processing and Rebatching Soap!
Sunday, February 19 at the Soapmaking Studio
Intermediate Hot Process Soapmaking
Spend the Morning Safely Making Honey Rose Hot Process Soap!
Hot process soapmaking is the basis for many different types of soapmaking techniques. If you plan to make honey soap, sugar scrub soap, transparent soap, melt and pour soap base from scratch, or liquid soap, you will benefit from this hot processing class.
Spend the morning getting nice and soapy making hot process soap in Soapmaking 105 Intermediate Hot Process Soapmaking. Learn how to widen your product base by including hot process soap and learn the specific conditions under which hot process is the preferred method over cold process soapmaking. Students learn how to safely add honey (or other sugars) to soap without creating the dangerous carbon monoxide that is always produced when sodium hydroxide reacts with sugar. Students take home the soap made in class. Attend in person or online. Register for Soapmaking 105.
Soap Salvage through Rebatching
Learn to Remake Dangerous Lye-Heavy Soap into Safe Beautiful Soap!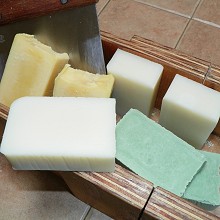 In the afternoon, in the new Soapmaking 125 class, learn to create beautiful, new bars of soap by rebatching old scraps and failed batches. Safely learn to neutralize lye-heavy soap or introduce additional lye to oily soap, in order to salvage failed batches and produce gorgeous soap. Many soapmakers don't know how rebatch soap to create fragrant, vibrant, new bars of soap from old, forgotten, faded bars lacking color or scent. View a soap rebatching demonstration and learn to improve soap through rebatching and the addition of fresh organic juices, vitamins, and antioxidants. Each student receives a bar of hot process soap rebatched during the Soapmaking 125 class. Attend in person or online.
---
Soap Makers' Luncheon
Sunday, April 5, 2020 at Marie Callender's Restaurant
Network with Southern California Soap and Cosmetic Crafters!
This luncheon is open to all soapmakers and makers of personal care products, whether professional or novice, whether cold/hot process method or "melt and pour." The Soap Makers' Luncheon is open to the public and attendance is free, just pay for anything you order from the menu. Our friendly soap meetup group is casual and provides a means of networking with local soapy artisans. Attend this creative handmade soaps and DIY bodycare meetup group luncheon at any level: Professional soapmaker, hobbyist soaper, or beginning crafter. The soap lunch venue is Marie Callender's restaurant on Alvarado Road in San Diego at 2:00 pm. Map & Directions. View the Soap Makers' Luncheon Agenda.
Marie Callender's Restaurant
6950 Alvarado Rd
San Diego, CA 92120
---
Soapmaking Classes
Soapmaking Classes are Fun, Understandable, and Affordable!
Learn how to make soap at the Soapmaking Studio in San Diego County, California!
Soapmaking 101 Beginning Cold Process Soapmaking has been a huge success and fills weeks in advance; the next class will be Sunday, February 16, 2020! The next Soapmaking 210 Advanced Cold/Hot Process Soapmaking will be Sunday, March 29, 2020. Soap Garden 224 Cultivating, Drying, and Adding Herbs to Soap and Soapmaking 220 Coloring and Scenting Soap are both available and open for registration. Our popular Soapmaking Supplies are now available for Standard Shipping or free Store Pickup.
Please check back because classes are added and website sections are updated on a regular basis. Email info@soapmakingstudio.com with any questions.
View soapmaking classes, the schedule, or store hours.
Classes are held at a private home occupied by a pet cat. If you are allergic to cats, please contact info@soapmakingstudio.com prior to enrolling in a class.