Welcome Soapmakers!
---
Coloring and Scenting Soap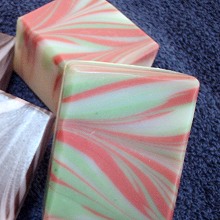 December 14 at the Soapmaking Studio
Come learn which colorants and scents are safe for use in soap and learn how to add them to cold process soap. An essential oil distilling unit will be running during the class so students can see how essential oils are distilled from plants. This class also features demonstrations of two popular advanced soap swirling techniques. Register for Soapmaking 220.
---
Intermediate Transparent Bar Soapmaking
December 21 at the Soapmaking Studio
Learn to make clear transparent bars of handmade soap from whole oils. Soapmaking 214 is not a "Melt & Pour" soapmaking class. Create beautiful clear soaps from whole natural oils using cold and hot process techniques. Register for Soapmaking 214.
---
Beginning Cold Process Soapmaking
December 28 at the Soapmaking Studio
Soapmaking 101 is a beginning-level soapmaking class designed to teach students to make soap by hand at home. The main focus of this class is the "cold process" soapmaking method; although the class does briefly describe "melt & pour" soap crafting. After learning soapmaking safety, students learn to formulate soap recipes and calculate lye quantities without using a "lye calculator." The objective of Soapmaking 101 is to have students understand saponification values and be comfortable creating their own soap recipes at home. Students make cold process soap during the class session and take home a bar.
This class is also available online: Description of Online Soapmaking 101.
---
Soap Makers' Luncheon
January 11, 2015, at Marie Callender's Restaurant
This luncheon is open to all soapmakers and makers of personal care products, whether professional or novice, whether cold/hot process method or melt-and-pour. The Soap Makers' Luncheon is open to the public and attendance is free, just pay for anything you order from the menu. The venue is Marie Callender's restaurant in San Diego at 2:00 pm. Map & Directions. View the Soap Makers' Luncheon Agenda.
---
Soapmaking Classes
Soapmaking Classes are Fun, Understandable, and Affordable!
Learn how to make soap at the Soapmaking Studio in San Diego County, California!
Soapmaking 101 Beginning Cold Process Soapmaking has been a huge success and fills weeks in advance; the next class will be Sunday, September 21! The next Soapmaking 210 Advanced Cold/Hot Process Soapmaking will be Sunday, August 10. Soap Garden 224 Cultivating, Drying, and Adding Herbs to Soap and Soapmaking 220 Coloring and Scenting Soap are both available and open for registration. Our popular Soapmaking Supplies are now available for shipping.
Please check back because classes are added and website sections are updated on a regular basis. Email info@soapmakingstudio.com with any questions.
View soapmaking classes, the schedule, or store hours.
Classes are held at a private home occupied by a pet cat. If you are allergic to cats, please contact info@soapmakingstudio.com prior to enrolling in a class.